Fujikawa Q Editorial Dept.
12.08.2022 8:00PM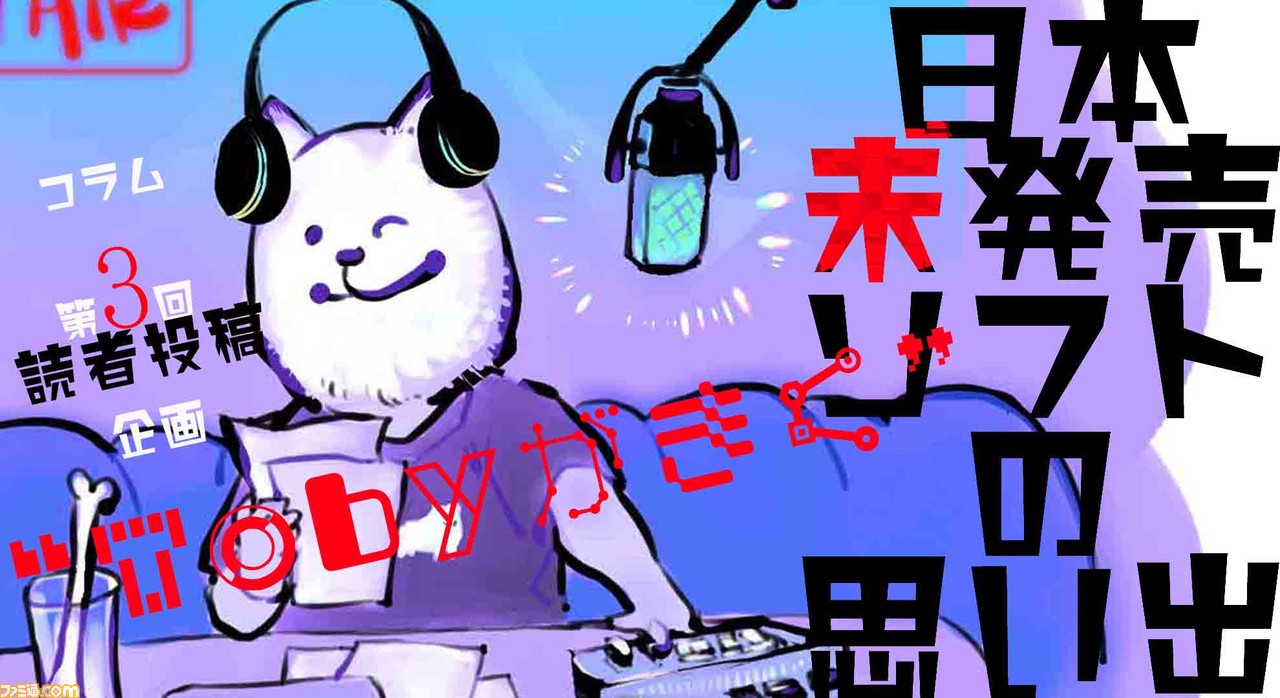 Following the anniversary of UNDERTALE and DELTARUNE Chapter 2, creator Toby Fox has launched the column "Toby Fox's Hideout".
 In a joint effort between Weekly Famitsu and Famitsu.com, we present our monthly column written by Toby and official translation by 8-4.
 We introduce our new segment, "Toby Asks", in this third installment.
 In conjunction with the previous column (on the American version of Seiken Densetsu 2, which was never brought to Japan), Toby asked readers about what games they remember waiting for a Japanese release of. We collected all the answers right here on Famitsu.com. Here are Toby's answers, hand-picked from the vast amount of submissions we received!
(By the way, we got a ton of replies that said UNDERTALE and DELTARUNE. Toby says, "Aw man!")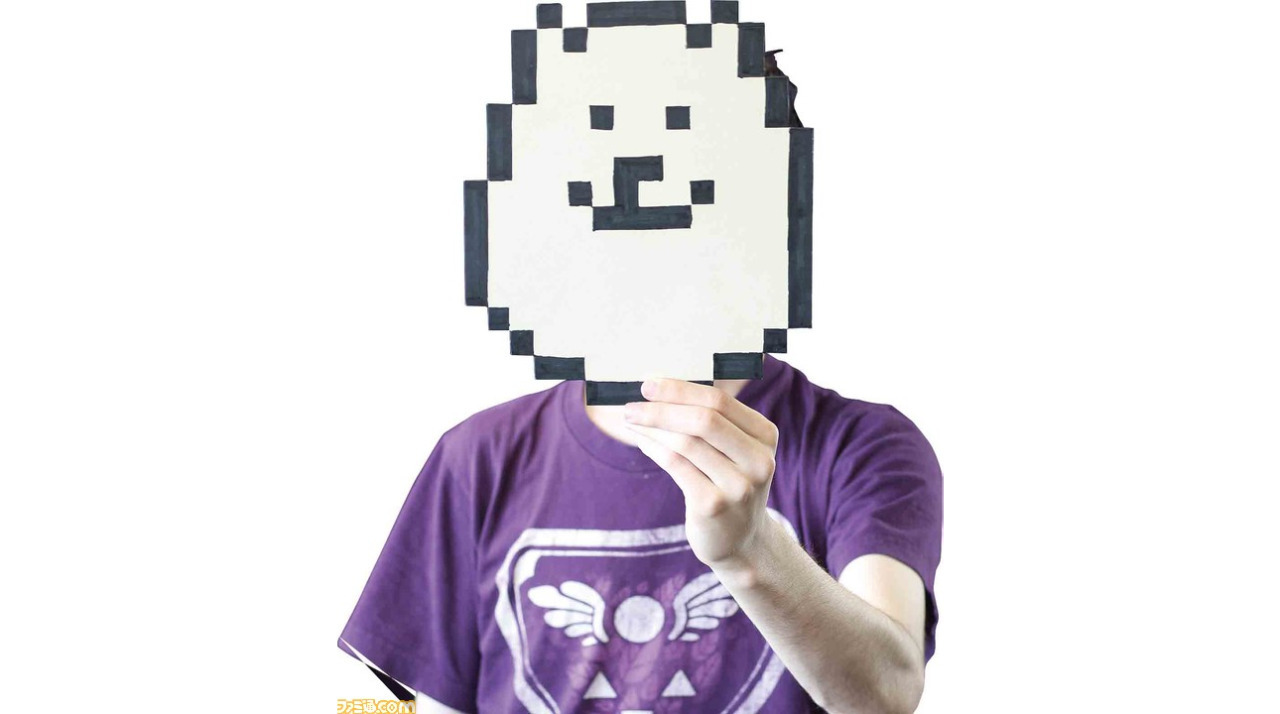 Toby Fox. You may know him for his work, UNDERTALE. Lives in the United States. He is currently developing his latest work, DELTARUNE. He has also provided music for Pokémon Sword and Shield and Super Smash Bros.
"Why did I get this series? I'm really not sure! But I did my best to write it, so here it is."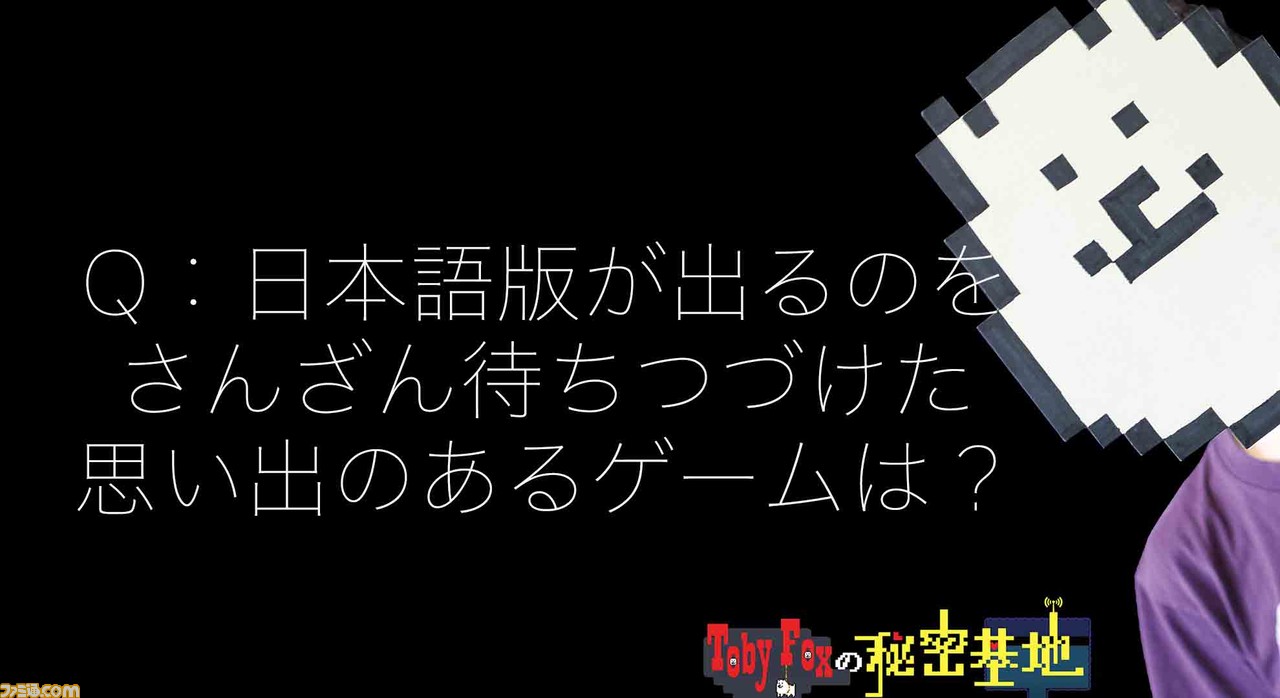 What games do you remember waiting forever for their Japanese edition?
From Mekara-san, and many others.
 From Toby-san: I've had to wait a long time for English versions of Japanese RPGs before too. It feels pretty good to be able to give players in Japan a taste of the same feeling.
 We're finally even now! Hey, you know, maybe I should stop releasing the Japanese version of DELTARUNE at the same time as the English one too. Yes... That way, everyone will be just itching to see what I do...FOREVER!!! (No. I'm kidding.)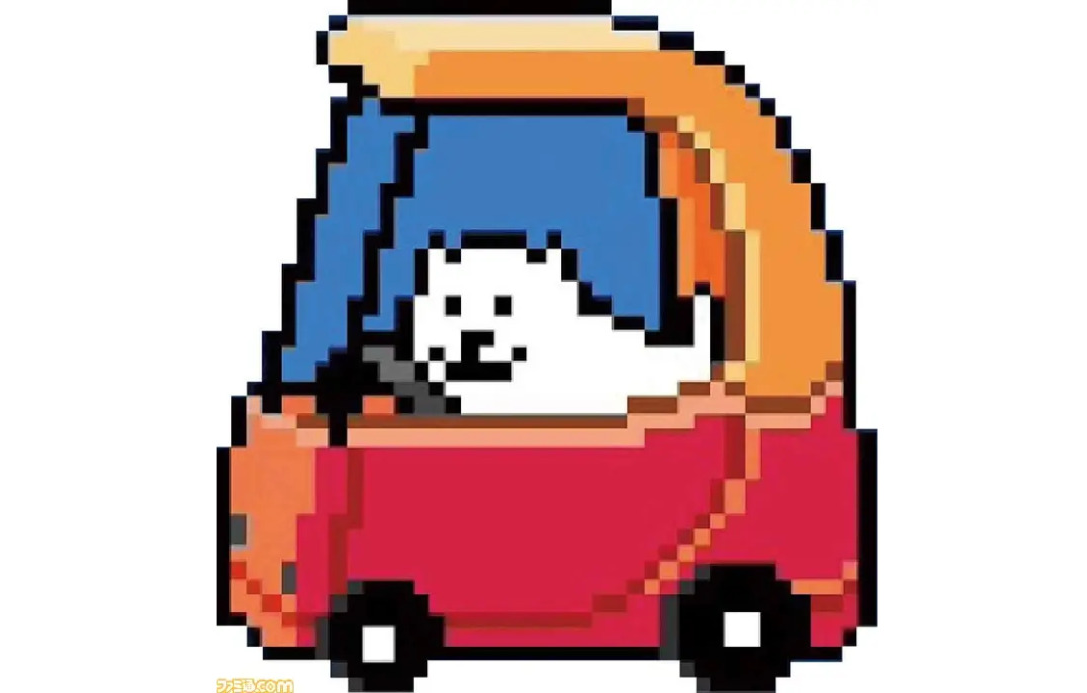 From Scoop-san:
 I was really disappointed to learn that the SFC (SNES) Super Scope exclusive "Metal Combat" wasn't available in Japan. I played the previous game, "Space Bazooka" (Battle Clash), many times over when I was little, mostly just to listen to the music.
 Of course the game itself was entertaining too. Despite its seemingly grim world, its characters were very comical and talkative, which naturally drew me in as a kid. But the best part was that in real life, I got to be in charge of aiming and shooting with the Super Scope while my friend Michael was in charge of the controls (moving around). I felt as though if I was not there, the world of the game wouldn't exist. I became completely absorbed with it.
 These rather vivid memories stayed with me as I grew up. I was doubly shocked to learn that there was not only a sequel, but that it had no release in Japan. I knew how difficult it would be to arrange a setup where I could play on hardware that was already generations old and with the Super Scope, so I was like, "Oh, I'm never gonna get to see that world." I was pretty heartbroken.
 Since there's just a presentation on Intelligent Systems' official site, I enjoyed imagining the world from just the description and the images. I'm glad I've gotten to see it in motion now from watching videos, but I'm still a bit sad about it.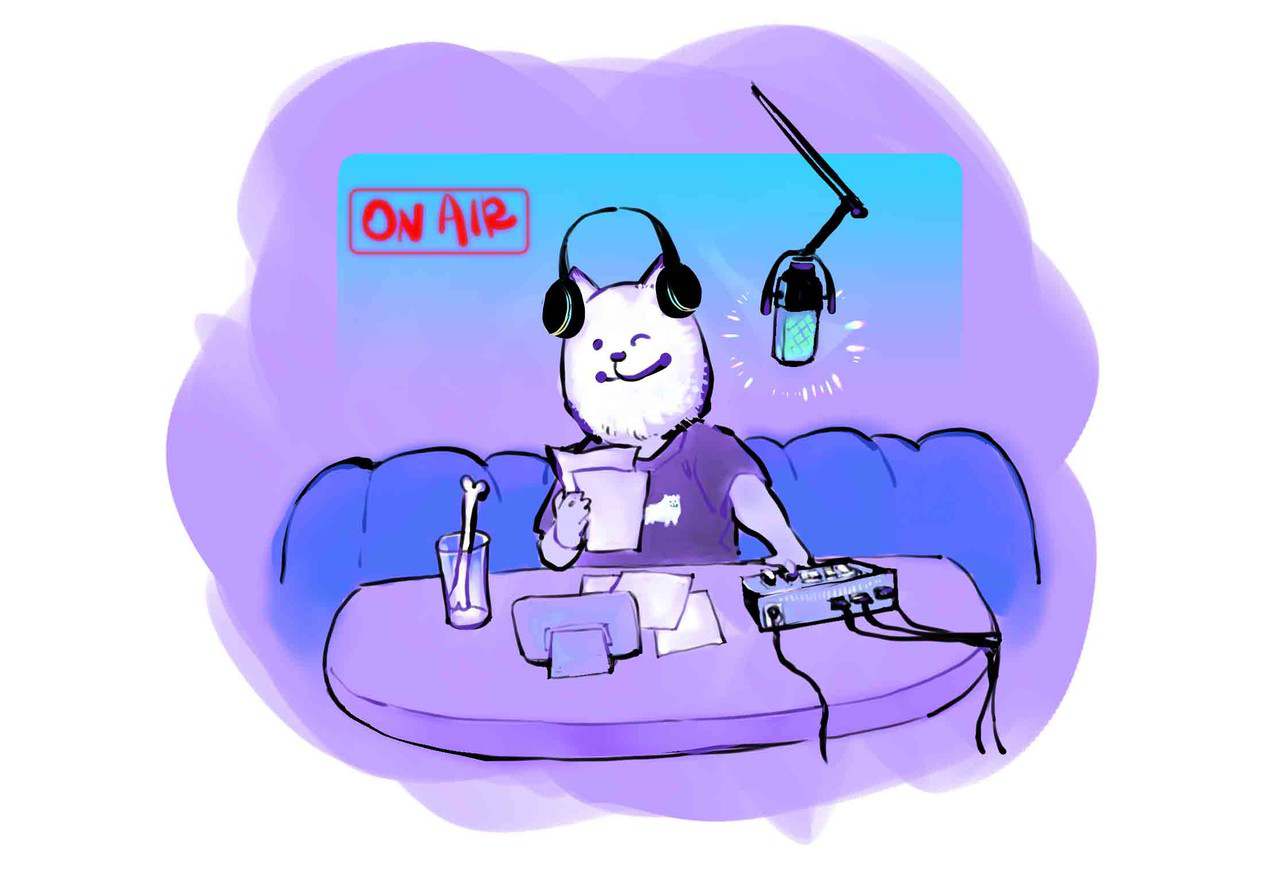 From Toby-san: Oh wow, I really love that... I wanna play with Michael too… Can I join you guys sometime?
 Seriously though, the giant robot bosses that are in that game are extremely awesome. It has to be the absolute best game to play with Super Scope, right?!
 I really wonder how it must have felt for Japanese game developers, having created such a masterpiece but not being able to release it in their own country.
 Michael, let's play!!!

From Enoshima-san:
 The game I really want to see released in Japanese soon is the game "Scott Pilgrim vs. The World: The Game"!
 I fell in love with this game because of its music, but it's been years and hasn't been given a Japanese release. Now it's a race to see if a Japanese version will come out first or if I'll have to grapple with the English version myself...

 From Toby-san: That game has some of the best music ever! The band responsible is called Anamanaguchi. They have a really unique style that combines chiptune and rock.
 Actually, Anamanaguchi inspired the song "Hopes and Dreams" in UNDERTALE. (And just recently, Anamanaguchi did a cover of "Hopes and Dreams" too… Oh my god… It's all connected!)
 By the way, the game is based on a comic that's just as fantastic and full of retro game material. If you like this column, I think you'd definitely love the books!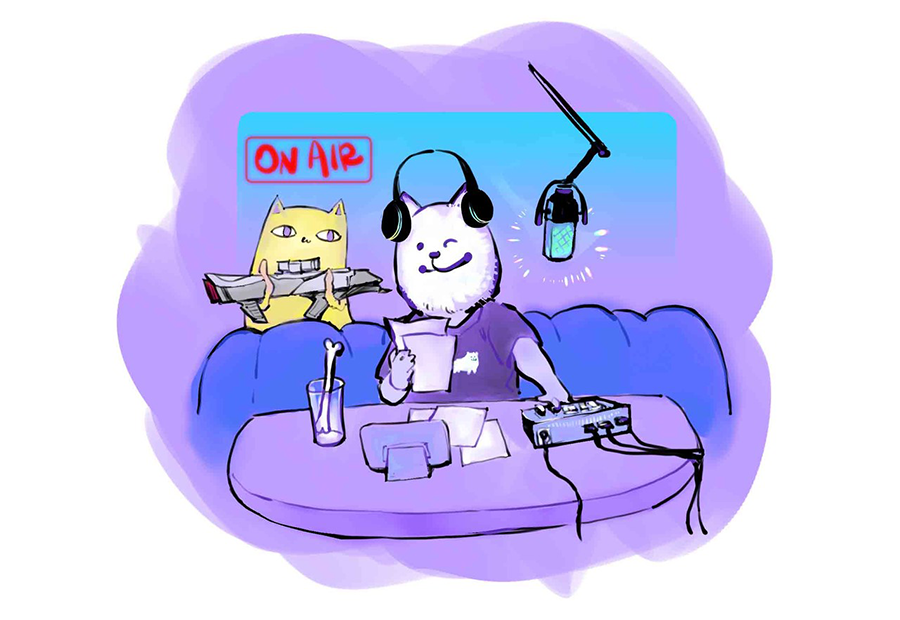 From Aruruno-san:
 I remember waiting a long time for the Japanese release of VA-11 Hall-A. UNDERTALE got me completely obsessed with indie games, and after it I started playing games from small dev teams in all kinds of different languages.
 This game is a visual novel inspired by Japanese games. It's different from the kind of games you make, but it was well worth the wait for the great story and little references to internet culture all throughout.
 I was also very impressed with the wonderful quality of the Japanese localization.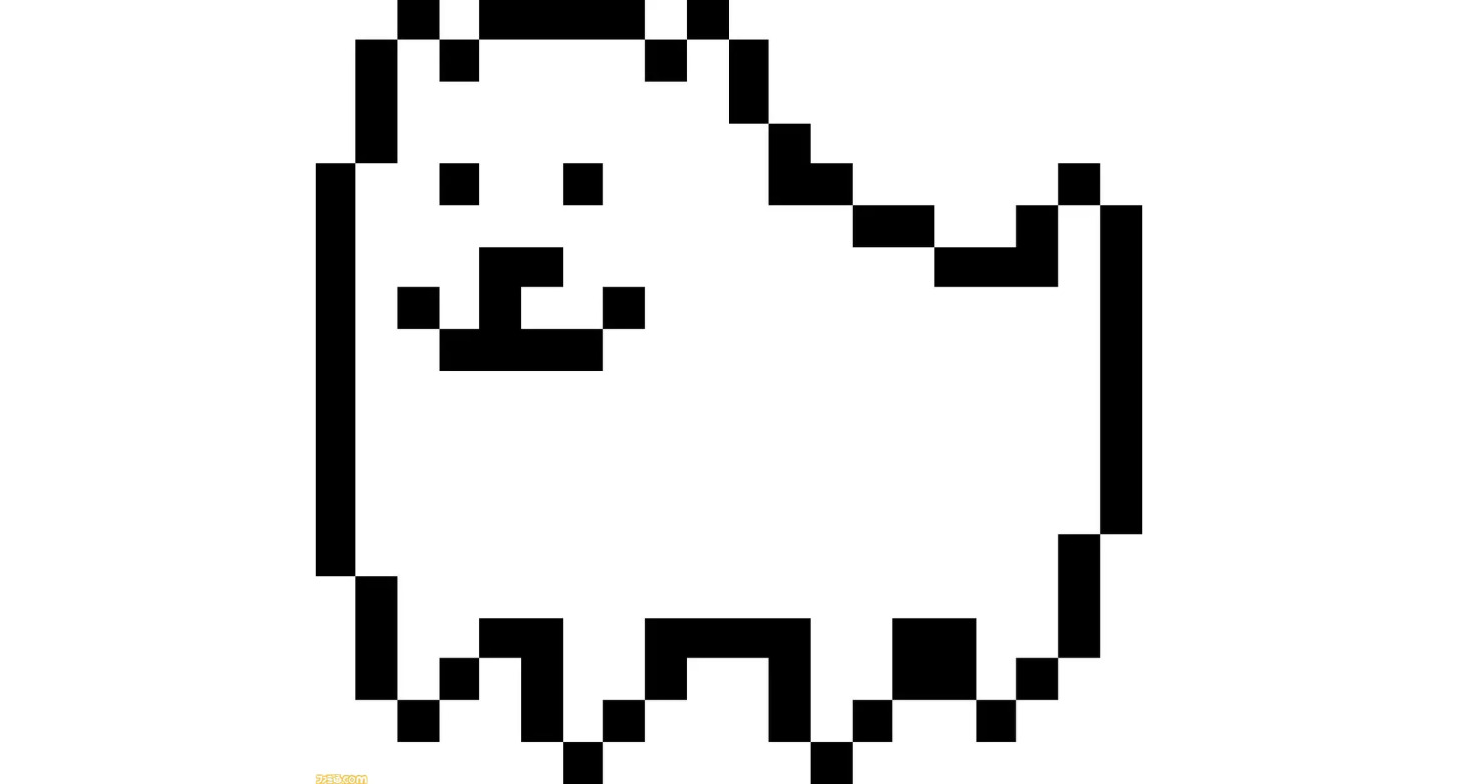 From Toby-san: Not just that… this game features a talking, sunglasses-wearing dog too!
 Okay, but seriously. You can truly feel the creator's love for classic Japanese video games in this work. Personally, I felt the influence of Hideo Kojima's "Snatcher" as well as PC-98 games.
 (Old man voice) Haven't you youngin's ever heard the name Ryu Umemoto before?!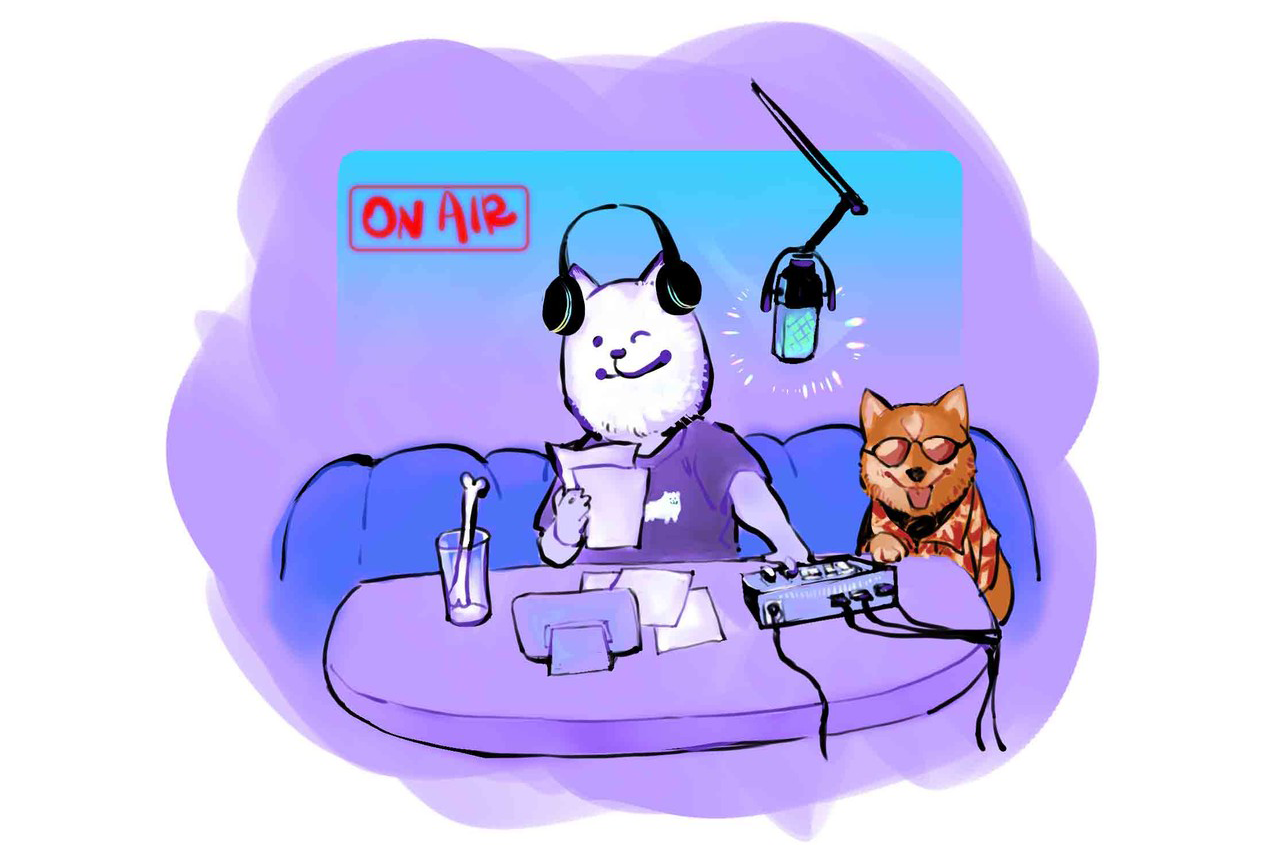 From Nakagen-san:
 The Japanese version wasn't released until December 2021, 8 years after the trailer came out. When I actually got to play it, it was such a touching story with an incredible amount of foreshadowing, that it was the first time I cried at a game.
 I know that you also provided a song for the soundtrack, which I think was originally titled "noise mastersong" (?) or something. That song was good too, but "Merry CD" is just as good and really suits the atmosphere of OMORI!
 I also heard that you and Omocat are good friends, and that they did Woshua's character design for UNDERTALE. I'd love to hear a little about OMORI and how you and Omocat came to know each other so well!

 From Toby-san: Omocat came to my house once to visit, and I got to show them my VHS collection. Then we went out to karaoke together and sang A Cruel Angel's Thesis!
 Just recently, they made the music video for the song "Skies Forever Blue" that was written by Itoki Hana and myself. We had to make the music video very quickly, but I think it should give you an idea of what we could create if Omocat and I were to combine our efforts.
 It's on Youtube, so definitely go check it out! Take this- dog and cat combined power!!!
 (*Toby then proceeded to chase his tail in circles while meowing.)
From sleeping fish-san:
 This is more of an ongoing process than a memory, but mine is Mortal Kombat. I feel like it's the dark version of Street Fighter V. I really want to get my hands on it, but I still can't legitimately buy the Japanese version, or even the English one (and especially not on PC).
 If the game is so popular internationally, I want to know why you can't get it in Japan. Is it too gory? If that's the case, then what about "Sayonara o Oshiete" or "Linda³", or "Resident Evil", for that matter?
 It's been about 10 years now and I'm still waiting to play some MK.

 From Toby-san: Wait, what?! The recent Mortal Kombat series isn't available in Japan? That series is a huge hit in the U.S, but it's also caused a good amount of controversy here. There were a lot of parents with children who wanted to ban the game's sale
 The special finishing moves are suuuper gory. But I know all you good kids out there are reading, so I won't get into the details.
 Back in the day, there was a Super Nintendo release for some reason, so Nintendo policy called for the finishing moves to be toned down. They even changed the characters' blood so it was... sweat. I guess video game violence must not be allowed in Japan...
 But don't let it get you down! Japan can still win the How-Is-This-Even-Allowed Game Awards! (*Toby holds out a crown that has "Eroge King!!!" written on it.)
 ~"Toby Asks" Vol. 1 - END~